Timber Curtain Wall
Our vertical architectural wall systems give you the design freedom to meet current commercial and residential trends including expansive use of glass, clean straight lines, and transparency between indoor and outdoor living.
Each architectural wall system we produce is architect-driven. Our experienced team works with you from inspiration to installation.
Easily incorporate doors, operable windows, and structural corner units.
Glue-laminated Douglas fir interiors with extruded aluminum exteriors in 70 powder coated colors make a distinctive upgrade over ordinary storefront glazing & aluminum curtain walls.
Tested to ASTM standards for air and water infiltration, and structural windload performance meeting a DP70 rating.
Featured in hundreds of commercial and residential installations across the US and Canada.
---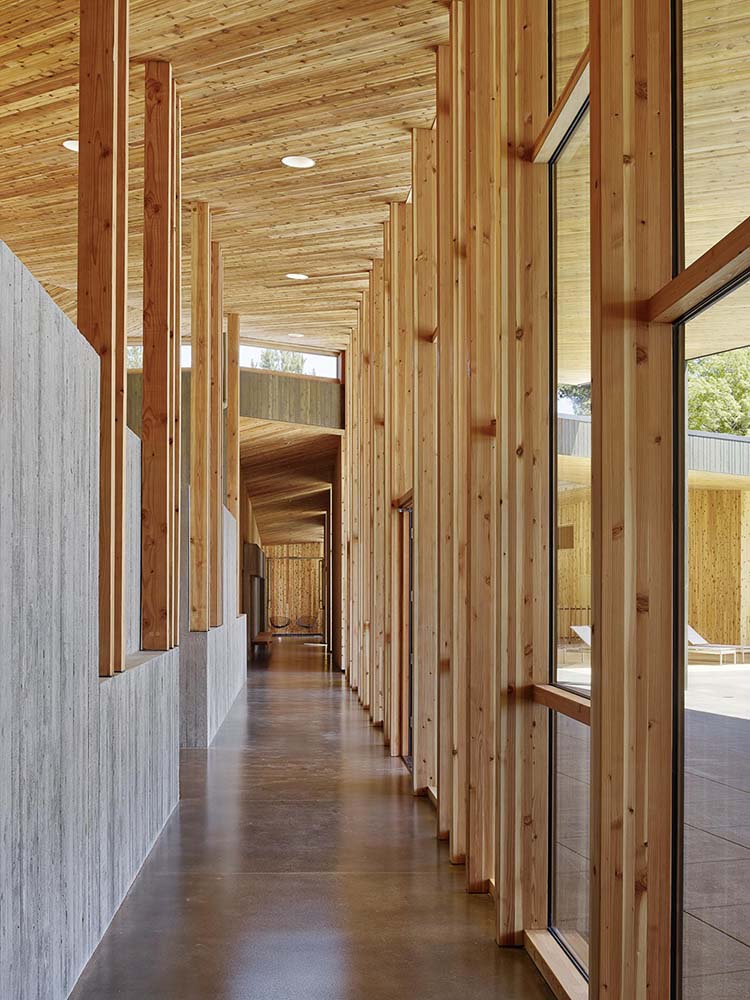 Beautiful Wood Beams
Glue laminated wood beams are fabricated from Select Tight Knot Douglas Fir created with the same tested craftsmanship that make these wall systems something to see.
Douglas-fir glue-laminated premium select tight knot grade.
Optional Alaskan yellow cedar (for high-moisture conditions) glue-laminated, premium grade.
Lamination by certified laminator.
Final paint, clear coats or stain by others.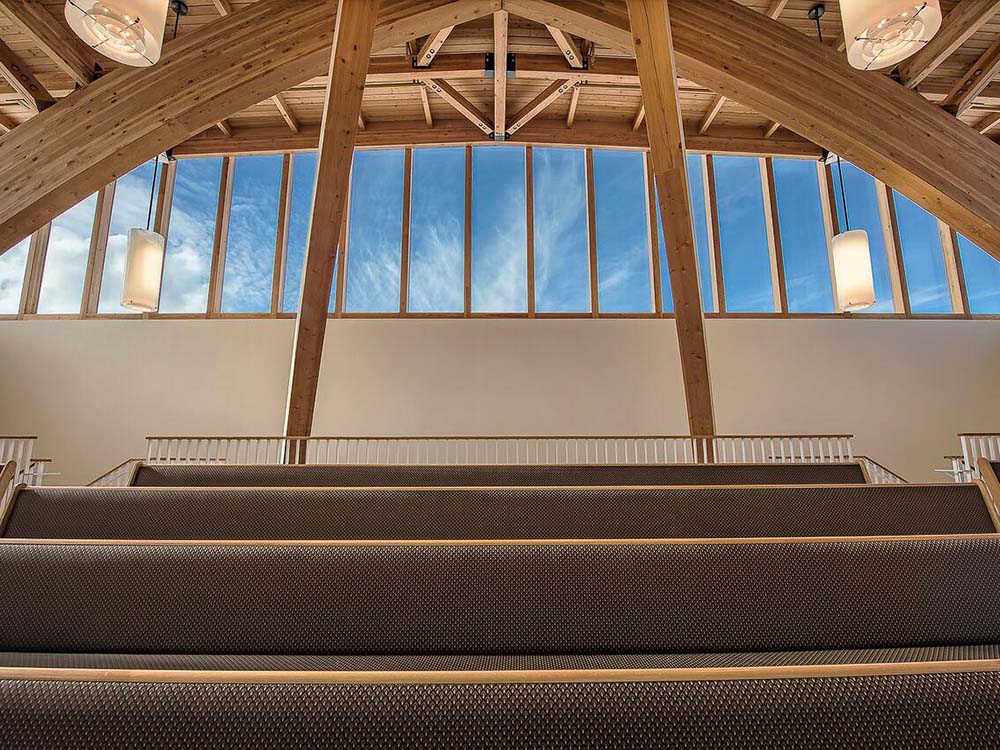 ViewMax Plus Glazing System
ViewMax Plus is an advanced pressure equalized glazing system. It equalizes air pressure between the window interior and exterior thanks to individual, isolated glazing chambers with independent weep systems.
With its sophisticated design and detailing, ViewMax Plus prevents water from being pushed or pulled into the building via the vacuum effect that can happen with other systems.
These beautiful structural wood window walls are available with multiple glazing options, achieving U-factors as low as .21.
With a DP 70 rating, ViewMax Plus is ideal for commercial or residential use.
All-wood interior.
DP 70 rating.
Pressure equalized glazing system.
Incorporates windows, doors, structural corner units.
Commercial or residential applications.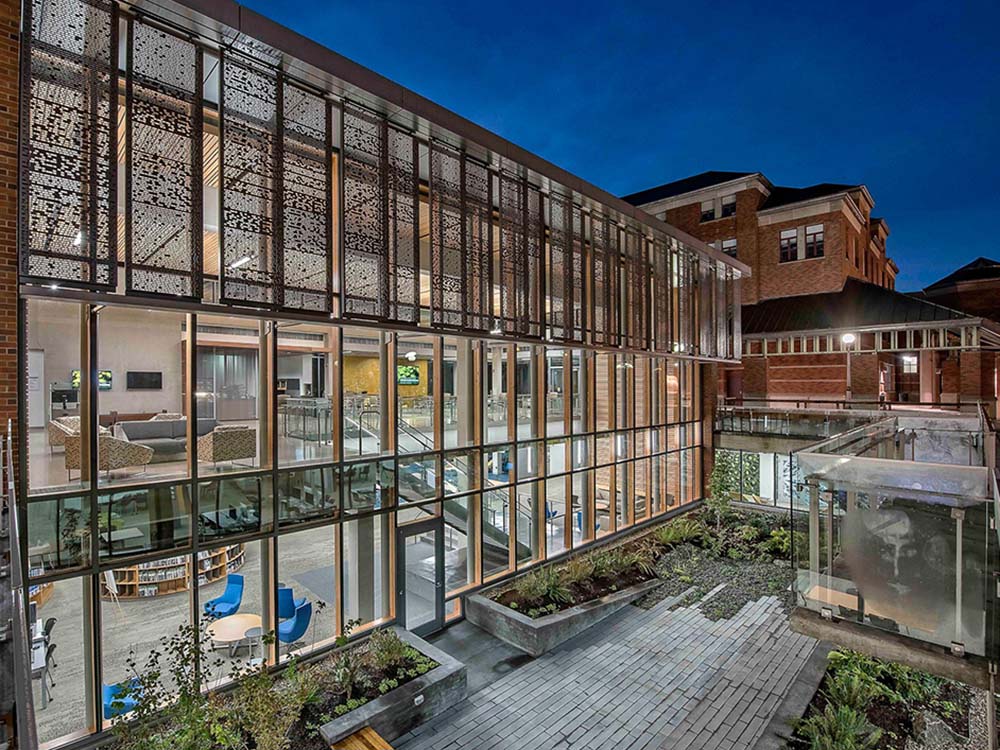 Operable Windows & Doors
A comprehensive range of Sierra Pacific windows, patio doors, and specialty doors can be easily integrated into our architectural wall systems, presenting a stunning combination of innovative wall designs with all-wood interiors.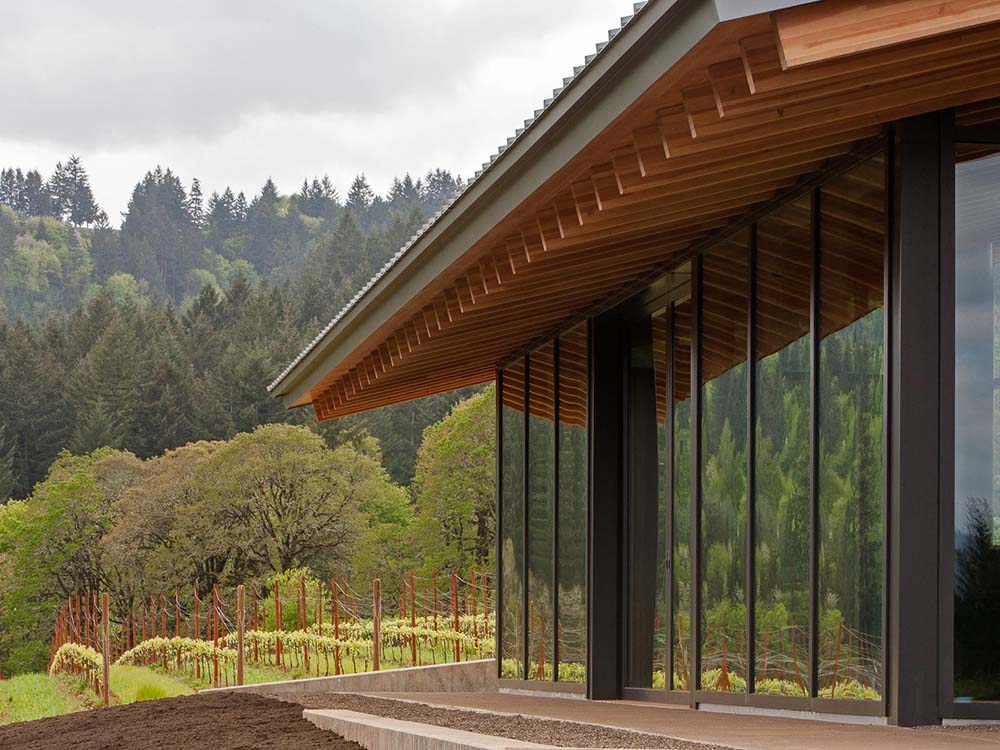 Specialty products for especially stunning walls
One of the more distinctive design choices involves incorporating one or more of our specialty products. We offer wood interior multi-slide, lift & slide, and bi-fold doors and windows for dramatically expansive openings. You can choose models that slide completely out of sight into a wall pocket, stack against the wall or open up an entire corner.
Complete features, specifications and details of our architectural wall systems.
Features & Benefits
Thermally broken glazing system with beautiful all-wood interior.
Glazed structural system for residential and commercial applications.
Engineered and tested system.
Can incorporate windows and doors into the system.
Structural corner units.
NFRC ratings.
Triple glaze option.
Manufactured by the most vertically integrated wood window company resulting in improved quality control and shorter lead times.
Structural System Beams
Douglas-fir glue-laminated premium select tight knot grade.
Optional Alaskan yellow cedar (for high-moisture conditions) glue-laminated, premium (tight knot) grade.
Lamination by a certified laminator.
Final paint, clear coats, or stain by others.
Finish
Exterior powder coated extruded aluminum in AAMA 2605 finish or optional AAMA 2604 textured finish.
Factory fabricated unit and mullion system.
Include snap-on aluminum caps to conceal fasteners.

Connection Materials
Bolts: zinc plated, hot dipped galvanized if required, sizing varies.
Screws: zinc plated, sizing varies.
Plates: galvanized, hot dipped galvanized, painted, or powder coated steel, size and thickness as required.
Exposure: interior and exterior fasteners are hidden unless specified for decorative purposes.
Brackets & reinforcements: high strength aluminum with non-staining, non-ferrous shims for aligning system components.

Engineering
Standard Engineering: Extensive engineering data is maintained to provide initial member sizes and connection requirements related to wind and seismic loads.
Special Engineering: Specific data is provided for loads or connections.
Stamps: Sierra Pacific Windows will secure necessary engineer stamps with sufficient time allowed.

Warranty
Sierra Pacific Windows are supported by one of the strongest warranties in the industry. For complete warranty information, visit our warranty page.
Assembly
Custom design and production of glazed structural systems for residential and commercial applications.
Each unit is custom built for your specific project. An elaborate shop drawing with appropriate architectural details is produced from general concepts submitted by the end-user or from very specific data from a designer/architect. With approved shop drawings, Sierra Pacific craftsmen produce the structure exactly as needed.
Ships KD: preassembled at manufacturing plant; predrilled, marked and labeled.
USGBC Leed® & Other Certification
PROGRAMS QUALIFICATION
CATEGORIES OF CONSIDERATION
Regional sourcing.
Recycled content.
Daylighting.
SFI materials.
FSC materials.
Energy conservation.
Indoor environmental quality.

Where Can I See Windows & Doors In Person?